Home

Where Russell Westbrook Is Wanted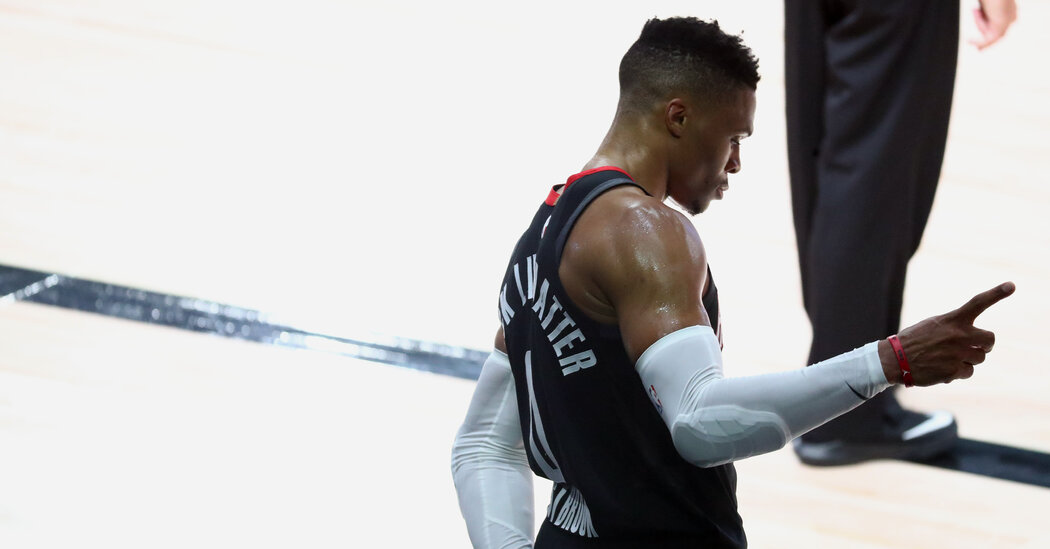 Where Russell Westbrook Is Wanted
The next two weeks will be frenetic but also refreshingly familiar (and presumably safe) throughout the N.B.A.
The league's Transaction Game, as we like to call it, has resumed with a flourish and is one of the few aspects of the forthcoming season that should not be endangered by coronavirus interruptions.
The 2020 draft, delayed since June, is Wednesday night. Free agency opens Friday at 6 p.m., Eastern time. A freeze on transactions in effect since March 13 was lifted Monday and quickly served up blockbuster trades that have Chris Paul on his way to Phoenix and Jrue Holiday poised to head to Milwaukee to team with Giannis Antetokounmpo.
Forecasting what happens in the draft has rarely been more difficult, with no clear-cut franchise players to choose from, but there is no shortage of around-the-league buzz to discuss when we tap into the grapevine:
The Charlotte Hornets and the Knicks have registered the most substantive trade interest in Houston's Russell Westbrook.
It must be emphasized, though, that both teams have expressed conditional rather than aggressive interest.
The Knicks, for starters, have weighed a trade that absorbs the three seasons and $133 million left on Westbrook's contract, as I reported last week, but I'm told there are multiple voices in the organization that have reservations about such a move.
In the Hornets' case, there is a belief in some corners of the league that their appetite for a Westbrook trade increases significantly if Charlotte does not land LaMelo Ball with the No. 3 overall pick in Wednesday's draft. Michael Jordan, Charlotte's owner, is a known Westbrook admirer. Should the playmaking Ball be drafted before the Hornets' turn at No. 3, according to the theory, there is a much stronger case to be made for trading for Westbrook in spite of the cost and attendant risk.
Some league insiders believe that the Hornets, at Jordan's behest, want Ball at No. 3 should Minnesota and Golden State select Anthony Edwards and James Wiseman with the top two picks.
The Athletic reported Tuesday that the Washington Wizards and the Rockets have had exploratory discussions on a John Wall-for-Westbrook swap. While the players' salaries make for a tidy trade match, talks have not advanced past a cursory stage with Houston looking for more than that in a potential Westbrook deal.
Houston has problems — plural.
The Election Day edition of the newsletter was headlined by the challenges the Rockets face to keep James Harden happy after their coach, Mike D'Antoni, and longtime general manager, Daryl Morey, abruptly walked away from the franchise in the wake of a second-round hammering by the Los Angeles Lakers in the playoffs.
Just two weeks later, Harden is forcefully angling for a trade — to the Nets.
The Rockets' position on Harden, for the record, hasn't changed: They don't want to trade him. Unappetizing as it sounds, Houston wants to play the long game and see if it can rebuild its relationship with Harden before conceding that trading him is the only alternative, even after Rafael Stone, the new general manager, made a forward-looking move in his first major trade by agreeing to send Robert Covington to Portland for Trevor Ariza and two future first-round picks.
Houston reclaimed a modicum of leverage on the Harden front late Monday when New Orleans struck a deal to trade Holiday to Milwaukee, nixing the possibility of the very interested Nets trading for Holiday. Yet that alone isn't likely to lead to a change of strategy. The Rockets have Harden under contract for at least two more seasons and are not obliged to just send him where he wants.
Houston also surely understands that, if Harden is traded first, it would face even more hurdles trying to move the unhappy Westbrook when the whole league knows Westbrook wants out.
The Nets have a lot to think about here, too.
As much as the Nets covet a third star to join Kevin Durant and Kyrie Irving — and a durable one given Durant and, particularly, Irving's injury histories — there is much logic working against the idea of adding Harden to the mix.
Durant has apparently thrown his support behind a reunion with Harden, and it must hearten (and intrigue) Nets officials to hear that Harden wants to join the project. It likewise can't hurt that D'Antoni is now an assistant coach for the Nets. Just don't forget that the ball-dominant duo of Durant and Irving has yet to play one second together in a real N.B.A. game. How sure can the Nets be that Harden, after years of dominating the ball like no other, would make the needed accommodations to play in a three-star alignment when we can't even be sure how the first two cornerstones will mesh?
The Rockets, furthermore, will be looking for the sort of haul of future first-round draft picks and players that New Orleans just scored in the Holiday trade if they do decide to part with Harden. The Nets don't appear to be in the best position to supply that.
The early signals emanating from Philadelphia suggest that Morey, the 76ers' new president of basketball operations, wants to give Joel Embiid and Ben Simmons every last chance to click before trading one of them. Houston, just to name one non-Nets option, could decide to wait to see if the Sixers' stance changes. As wary as the Rockets must be about doing a deal of that magnitude with Morey, we've seen that front offices that know each other well often find it easier to collaborate on the biggest of trades.
The Knicks, at least so far, are taking a measured approach to the idea of trading for Westbrook. No, really.
It's a serious struggle to imagine where Houston would be able to dispatch Westbrook if both the Hornets and the Knicks pass. And the Knicks' posture on Westbrook is best described as "weighing, but resisting."
After surrendering so much draft capital to acquire Westbrook, Houston hopes to come away with at least one future first-round pick if it trades him. The Knicks could furnish a projected late first-rounder they acquired from Dallas in the Kristaps Porzingis trade, but that is the most attractive asset they appear willing to include in a Westbrook deal. The best offer Houston can reasonably expect from the Knicks features players not in the team's long-term plans, such as Julius Randle and the disappointing Dennis Smith Jr., and even then it's no lock that the Knicks would agree to take on the $133 million left on Westbrook's contract over the next three seasons.
Although it is widely presumed that Tom Thibodeau, the Knicks' new coach, would be in favor of a Westbrook trade — given Thibodeau's longstanding win-now reputation — Leon Rose is the one responsible for plotting the team's course as the new president of basketball operations. Rose has had nearly nine months to map out his first major roster move. Does he really want to christen the Rose era by taking a chance on Westbrook when the point guard is no longer regarded as an automatic choice among the game's top 20 players? If so, it would be an admission that the Knicks know they are unlikely to be deemed an attractive free-agent destination any time soon.
Westbrook, 32, receives too much criticism for the current state of his game; let's not gloss over the fact he averaged 27.2 points, 7.9 rebounds and 7.0 assists per game for the Rockets last season before a combination of injury and coronavirus issues hampered him during the N.B.A. restart at Walt Disney World. The risks with Westbrook, though, are undeniable. He has a worrisome injury history for a player who relies on his athleticism, holds debatable appeal as a free-agent draw for fellow stars and wouldn't appear to be the ideal fit alongside RJ Barrett, one of the Knicks' few keepers.
Westbrook and Thibodeau are both relentlessly competitive, which seemingly makes them a match, but a measured approach here is the sensible one. Even the Knicks, famed for chasing the game's biggest names at all costs over these past two decades of futility, seem to see that.
The Rockets, amid all the focus on Harden and Westbrook, are fortifying their ranks with some imports from Australia.
I reported last week that the Rockets are hiring Will Weaver of the Sydney Kings as an assistant to the newly hired Stephen Silas. Weaver was a finalist for Oklahoma City's head coaching post that went to Mark Daigneault.
Word is that the Rockets will also soon be adding one of Weaver's players from the Kings. The rugged swingman Jae'Sean Tate, who played at Ohio State, is also expected to make the move from Sydney to Houston after free agency begins Friday.
---
The Scoop @TheSteinLine
You ask; I answer. Every week in this space, I'll field three questions posed via email at marcstein-newsletter@nytimes.com. (Please include your first and last name, as well as the city you're writing in from, and make sure "Corner Three" is in the subject line.)
Q: Although starting the season during Christmas week makes financial sense for the N.B.A., the quick turnaround seems terribly unfair to last season's finalists and conference finalists. The players on those teams endured extra time in the bubble while receiving no extra financial compensation for the additional games played. They deserve time to rest and heal — especially the older, heavy-minutes players such as LeBron James, Jimmy Butler and Kemba Walker.
Why not give those four teams an extra month off and let them kick their seasons off with a Martin Luther King Day doubleheader? — Avary Mitchell (McKinney, Texas)
Stein: The tight turnaround is undoubtedly unfair to Denver, Boston, Miami and the Lakers, but the league has to do what's best for all 30 teams. Your suggestion, however well-intentioned, would also introduce untenable complications for the league's schedule-makers.
It's going to be hard enough to complete a 72-game season and four full playoff rounds by mid-July with a Dec. 22 start, given the current bleak outlook for how the United States is handling the coronavirus pandemic. Among the N.B.A.'s underpublicized motivations for starting the season before Christmas is to create some added cushion to finish the season by mid-July even if, as many fear, there are coronavirus-related interruptions.
The four teams you mentioned, for the record, were compensated for their longer stays in the N.B.A. bubble at Walt Disney World near Orlando, Fla., by receiving the four largest playoff shares in the league.
The Lakers, as champions, received a pot of $4,124,054 to divide. The Heat collected $2,732,699 for reaching the N.B.A. finals. The Nuggets and the Celtics each earned an extra $683,363 for making the conference finals.
Q: I see you've also forgotten about Mike Miller with the Westchester Knicks and New York Knicks! This is getting disrespectful. — @deanjoannou from Twitter
Stein: This was a response to my tweet last week about Oklahoma City's Mark Daigneault becoming the first coach in league history to coach a G League team and then be promoted to head coach of the big-league affiliate by the same franchise.
If you wish to award that status to Miller for his 44-game stint as the Knicks' interim coach last season, I suppose you technically can. But I think you know what I meant.
The Knicks did not plan for Miller to be their head coach going into last season and hired Tom Thibodeau in July as the full-time replacement for the ousted David Fizdale. The Thunder had Daigneault coach their G League team for five seasons to gain head coaching experience and named him as Billy Donovan's full-time replacement after Daigneault spent one season on Donovan's staff as an assistant.
These are not the same.
Q: Have you heard any more information on where the Raptors are likely to play this upcoming season? The Canadian government did not let the Toronto Blue Jays play in Canada, so do you think the Raptors have any shot of playing in Toronto? If not, which American city do you think is the front-runner? — Chris Chinn (Waterloo, Ontario)
Stein: The consistent message from the league office and the Raptors is that they are trying as hard as they can to satisfy government requirements to keep the team in Canada.
It's hard to imagine that happening, given the understandable concerns about how to safely negotiate border crossings both ways, but that remains the goal.
The problem, of course, is that training camps are scheduled to open in two weeks, which has to tremendously unsettling for Toronto's players and coaches. Tampa, Fla., was last week's hottest U.S. candidate, but I've since heard that the Raptors are looking seriously at Fort Lauderdale as well if they can't stay home.
As covered extensively in last week's newsletter, teams (as well as fans and journalists) have been focused more on the draft, potential trades and the forthcoming free-agent frenzy than the very serious logistical challenges that will soon confront the whole league. The daunting reality of those challenges, though, is becoming more tangible.
---
7
After Oklahoma City filled the league's last of nine coaching vacancies by hiring Mark Daigneault, there will be seven Black coaches in the N.B.A. this season — in a league with a player pool estimated at 80 percent Black. They are: Atlanta's Lloyd Pierce, Cleveland's J.B. Bickerstaff, Detroit's Dwane Casey, Houston's Stephen Silas, Philadelphia's Doc Rivers, Phoenix's Monty Williams and the Los Angeles Clippers' Tyronn Lue. Charlotte's James Borrego and Miami's Erik Spoelstra are the league's other two coaches of color.
16
The new season will also begin with just 16 of the N.B.A.'s top 60 jobs held by nonwhite coaches and heads of front offices. The seven executives in that group with lead decision-making authority are: Cleveland's Koby Altman, Detroit's Troy Weaver, Houston's Rafael Stone, Minnesota's Gersson Rosas, Phoenix's James Jones, San Antonio's Brian Wright and Toronto's Masai Ujiri.
4
Four of the league's nine new hires are first-time head coaches: Oklahoma City's Daigneault, the Nets' Steve Nash, Houston's Silas and Indiana's Nate Bjorkgren.
5
The Clippers' hiring of the former Nets coach Kenny Atkinson to Lue's staff, which was announced on Monday, will raise the count to five head coaches from last season to take an assistant coaching job this season. Atkinson joins Mike D'Antoni (Houston to the Nets), Alvin Gentry (New Orleans to Sacramento), Nate McMillan (Indiana to Atlanta) and Jacque Vaughn (Nets interim coach to Nash's assistant).
3
Atkinson's arrival means that three former Nets head coaches will be working as assistants in Los Angeles next season. Jason Kidd and Lionel Hollins are prominent members of Frank Vogel's Lakers staff.
---
Hit me up anytime on Twitter (@TheSteinLine) or Facebook (@MarcSteinNBA) or Instagram (@thesteinline). Send any other feedback to marcstein-newsletter@nytimes.com.
You Might Be Interested In