Home

U.S. Ties El Salvador in World Cup Qualifying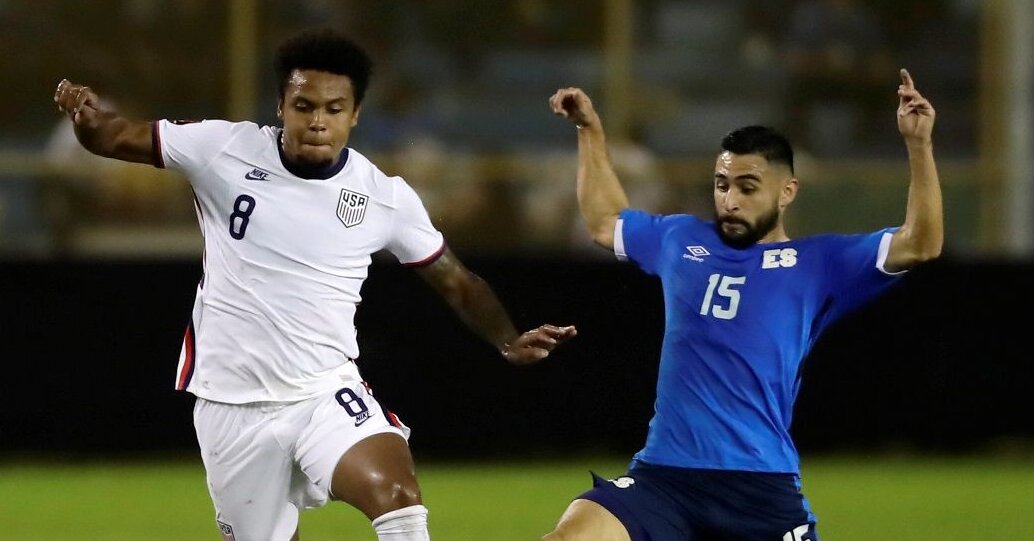 U.S. Ties El Salvador in World Cup Qualifying
As a youthful American team took its first step toward the 2022 World Cup, it rued a few missed opportunities.
SAN SALVADOR — The formula for success in World Cup qualifying is written in years of hard lessons, hard games and hard nights: Win your home games. Pick up points on the road. Survive and advance.
So it should not have a been a terrible disappointment for the United States men's soccer team on Thursday when it opened the final round of qualifying with a scoreless tie at El Salvador. A point on the road, after all, is better than the alternative.
"If you're not going to win the game," United States defender Tim Ream said, "then you can't lose it."
But some points are harder won, and perhaps harder to accept, than others. Fresh off a summer in which it won two cup finals against archrival Mexico, the United States had started Thursday's match against El Salvador exactly as it had hoped.
It produced three excellent scoring chances — by Gio Reyna, Brendan Aaronson and Miles Robinson — in the first 10 minutes and at times displayed the kind of free-flowing, field-stretching ball movement that has made its youth-infused roster the best team in the region again.
But El Salvador, in the midst of its own rebuild under the former United States national team player Hugo Pérez, soon found its footing. Backed by a capacity crowd that had begun streaming through the gates as soon as they opened 11 a.m., nine hours before kickoff, La Selecta lacked only the clinical finishing required to cash in the chances created by its deft footwork and incisive runs. Midfielder Alex Roldan came closest to opening the scoring in the 33rd minute, dropping defender DeAndre Yedlin on the left side before curling in a shot that skimmed the crossbar.
"There needs to be a calm that sets in after that initial period, where we really start taking over, and we never got that," United States Coach Gregg Berhalter said. "It turned into too hectic of a game, and we didn't manage that well."
In the second half, the game drifted inexorably toward a stalemate amid tired legs, wayward passes and a quick succession of American yellow cards. When the final whistle blew, the United States players trudged off, projecting a sense that they could have won, while El Salvador's basked in the cheers of an adoring crowd that seemed to feel that its team had.
In his final prematch comments on Wednesday, Berhalter had called the game an opportunity, a chance to rewrite the team's destiny right from the start of the final round of qualifying, and to do so even without the star midfielder Christian Pulisic, who skipped the trip as he continued to recover from a bout with the coronavirus.
For a few of his teammates, though, it may have felt like an opportunity lost. Berhalter spoke of a lack of connections, of too much individual play and not enough switching of the point of attack. The United States captain, Tyler Adams, pointed out some of the same concerns, but also a need to be "more ruthless" in finishing chances.
"It's our first game," Adams admitted grudgingly. "We have to take what we can from it."
The Americans will not have long to linger over Thursday night's result: Two more qualifiers loom in the coming days, against Canada on Sunday in Nashville and against Honduras on Wednesday in San Pedro Sula. The former may present the tougher competitive test, the latter the more dangerous one, mentally and physically, of this compressed window.
Those games will mark the first hurried steps of the final round of qualifying, normally an 18-month slog that has been compressed to a seven-month sprint because of pandemic delays and postponements. That means three games in most windows, rather than the usual two, and less time to revel in victories or wallow in defeats. It means injuries and absences like Pulisic's may prove more problematic, and disappointing results more costly.
It means that for a young United States team, whose starting lineup on Thursday had an average age of 23 years and 282 days, there will be no time to look back and wonder how Thursday might have gone differently. Now that it's over, the Americans will fly home with their hard-won point, their hopes for three more only a few days away.
You Might Be Interested In