Home

Lindy McDaniel, Ace Reliever for Mediocre Teams, Dies at 84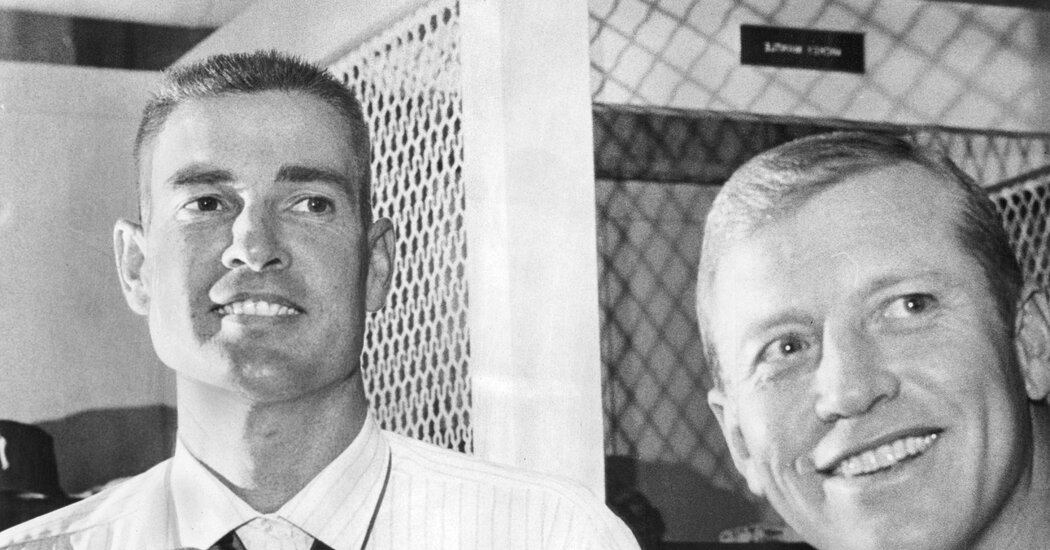 Lindy McDaniel, Ace Reliever for Mediocre Teams, Dies at 84
Lindy McDaniel, who pitched for 21 years in the big leagues and became one of baseball's most dependable relievers in spite of the mostly mediocre teams he labored for, died on Saturday in Carrollton, Texas. He was 84.
His death, at an urgent care center, was caused by Covid-19, his son Dale said.
A lanky right-hander who generally relied on breaking stuff, McDaniel pitched for a total of five teams in both leagues — his longest stints were with the St. Louis Cardinals and the Yankees — and had success out of the bullpen as both a long man and a closer in an era before pitching specialization.
He was just 19 when he began his career with the Cardinals in 1955, and by 1957 he was in the starting rotation, winning 15 games as a sinker baller with a sidearm-to-three-quarter delivery. In June that year, his 18-year-old brother, Von, made his debut with the team, shutting out the Brooklyn Dodgers on two hits in his first start and then one-hitting the Pittsburgh Pirates a few weeks later.
St. Louis fans were giddy at the prospect of the brothers at the top of the rotation, and comparisons were drawn to the previous Cardinal star siblings, Paul and Dizzy Dean. Life magazine proclaimed them "the Amazing McDaniel Boys." But things didn't go that way. Von McDaniel's star fell as quickly as it had risen, and he was gone from the majors for good in less than a year. (Von died of a heart attack in 1995 at 56.)
As for Lindy, his success as a starter was also short-lived. The Cardinals' manager, Solly Hemus, in May 1959 sent him to the bullpen, where he began throwing overhand. The change in motion changed his career as well.
McDaniel led the National League with 16 saves in 1959 and 27 in 1960, when he made the All-Star team. The Sporting News named him baseball's top reliever. Over his last 16 seasons, he started just 15 times.
"When I threw with that sidearm motion, I didn't have enough speed to strike out batters whenever I was in a jam," McDaniel told Arthur Daley of The New York Times in 1961, adding: "As a sidearmer I had a sinker, curve and slider. As an overhander, I have a fastball, curve, forkball and changeup curve."
McDaniel was traded to the Chicago Cubs after the 1962 season and had a splendid first year with them, winning 13 games and saving 22, again a league high. Another good season was his first with the San Francisco Giants, in 1966, when he won 10 games in relief with an E.R.A. of 2.66; at one point he threw 20 ⅓ consecutive scoreless innings.
McDaniel began a six-season stint with the Yankees in 1968, a lean stretch for the team as stars from its glory years of the 1950s and early '60s, like Mickey Mantle, were fading. In his last season in the Bronx, at 37, McDaniel went 12-6 and pitched 160 ⅓ innings (including three starts in 47 appearances) with an E.R.A. of 2.86 for a team that finished under .500. He closed out his career playing for the Kansas City Royals for two seasons.
His career included some curiosities and exceptional highlights. On May 10, 1959, he pitched for the Cardinals in both games of a doubleheader against the Cubs. He was the losing pitcher in the first game and the winner in the second while the Cubs' Elmer Singleton won the first and lost the second, a symmetrical happenstance that, according to the website baseball-reference.com, had occurred only twice before.
Pitching for a lowly Yankees team in August 1968, he retired 32 consecutive batters over four games. That same year, he pitched seven perfect innings — the 9th through the 15th — in a 19-inning game that ended in a tie against the first place (and eventual world champion) Detroit Tigers.
All told, McDaniel was 141-119 with 174 saves in 987 appearances. Only five times in 21 seasons did his team finish as high as second place. He never played in the postseason.
Lyndall Dale McDaniel was born in Hollis, Okla., on Dec. 13, 1935. His parents, Newell and Ada Mae (Burk) McDaniel, were deeply observant Christians, and his mother, in particular, required a good deal of persuading before allowing her son to play professional baseball.
McDaniel, a multisport athlete, attended the University of Oklahoma on a basketball scholarship before signing with the Cardinals for $50,000 (about $485,000 in today's money) as a so-called bonus baby, the designation for amateur players who signed large contracts and were required to be placed on a major league roster rather than be sent to the minor leagues. (The bonus baby rule was in effect from 1947-65.)
During his baseball career he studied for the ministry at Abilene Christian University in Texas and Florida Christian University and was eventually ordained by the Church of Christ. He preached in several congregations during and after his career, and for many years published a newsletter (later a blog), "Pitching for the Master," with reflections on religion and baseball. Most recently he was an elder of the Lavon Church of Christ, a 50-member Texas congregation about 35 miles northeast of Dallas. McDaniel's marriage in 1957 to Oral Audrey Kuhn ended in divorce in 1979. His second marriage, to Mary Alice Sewell, ended with her death in 2008.
In addition to his son Dale, from his first marriage, McDaniel is survived by his third wife, Nancy (DeShazo) McDaniel; two other children from his first marriage, Jonathan McDaniel and Kathi Watters; his second wife's children, whom he adopted, Susie Miles and Joey McDaniel; 11 grandchildren; and five great-grandchildren.
In a 2014 entry on his blog, McDaniel recalled the highlight of his career. On June 6, 1963, with the Giants visiting Chicago, he came out of the Cubs' bullpen in the 10th inning of a tie game with the bases loaded and one out and promptly picked Willie Mays off second base. He then struck out the Giant catcher Ed Bailey to end the inning. As the leadoff hitter in the bottom of the 10th, McDaniel hit the ball over the center field fence — one of the three home runs he ever hit — to win the game, elevating the Cubs into a first-place tie with San Francisco.
"Not a bad afternoon's work at the 'friendly confines of Wrigley Field', as Ernie Banks would call it," he wrote. "For one brief moment all was joy in Chicago land."
Alex Traub contributed reporting.
You Might Be Interested In