Home

Giants Make a Case to Win the Grim N.F.C. East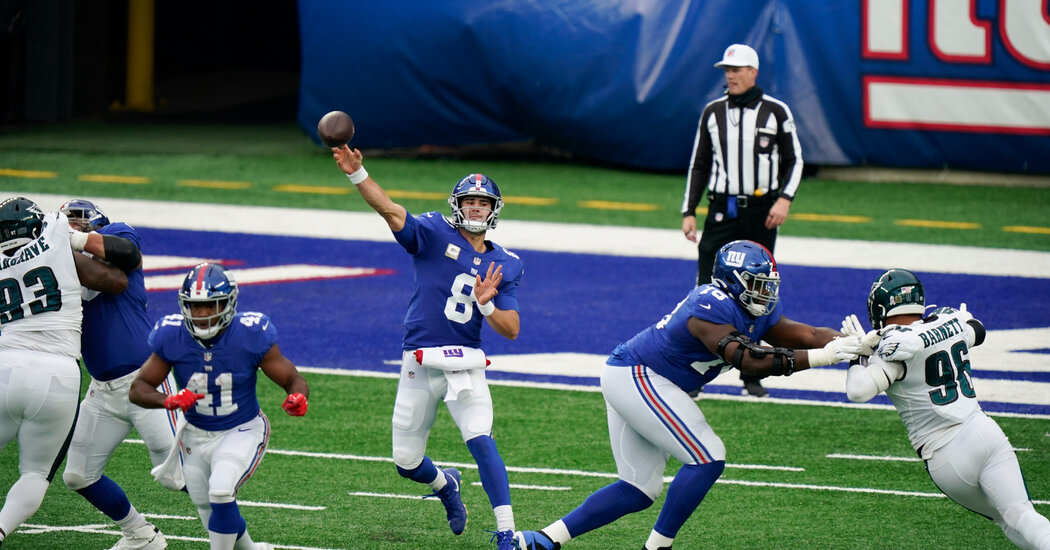 Giants Make a Case to Win the Grim N.F.C. East
EAST RUTHERFORD, N.J. — The N.F.L. isn't going to disband the N.F.C. East, that wretched assemblage of teams galloping toward collective infamy. Nor, at last check, does it plan to rescind the division's automatic postseason berth as punishment for producing such unsightly football week after week after week.
The playoffs, per league rules, will include the N.F.C. East champion, which, in this most bizarre of seasons, could end up being a team that lost its first five games and seven of its first eight.
That team would be the Giants, who on Sunday prevailed, 27-17, over Philadelphia, in an emphatic rebuke of their last meeting, three weeks ago, and in a victory that bestowed upon them one divisional distinction — the least inferior team — as they fervently chase another.
Through Week 10, the Giants (3-7), who had lost their last eight games to Philadelphia, do not lead the N.F.C. East. The Eagles (3-5-1) still do, by a half-game. But as Philadelphia capitulated Sunday, doomed by a sordid assortment of penalties, drops and third-down flops, the Giants coalesced.
Instead of wilting when leading by 11 in the second half, as they did in a 22-21 loss to the Eagles on Oct. 22, the Giants preserved their advantage. Instead of tripping with open space before him, quarterback Daniel Jones remained upright to race into the end zone. Instead of folding in the fourth quarter, a collapse that in Week 7 left the defensive coordinator Patrick Graham alone on the bench afterward with his head in his hands, the Giants thwarted Philadelphia on all three of its possessions.
"The emphasis," Giants Coach Joe Judge said, "was to finish the game."
The Giants finished the game, as Judge said, in part because they started so well, with long touchdown drives on their first two series that put them ahead by 14-3 at halftime. When Philadelphia regrouped in the third quarter, by scoring on consecutive drives to draw within 21-17, the Giants put the onus on Jones, who throughout the game demonstrated a certain decisiveness.
His throws were accurate, his decisions smart, and his pocket awareness savvy, and when Darius Slayton streaked down the far sideline in single coverage, Jones delivered a perfect throw for a 40-yard gain that led to the Giants' final points, a Graham Gano field goal.
For the second consecutive game, Jones delivered the sort of performance — 21 of 28 for 244 yards, with, again, no turnovers — that not only reinforced the Giants' faith in him but, in a rarity, cast him as the best quarterback at MetLife Stadium on Sunday. Even with Philadelphia quarterback Carson Wentz, the league leader in that category, not committing a turnover, and even with Philadelphia fielding a far healthier team than it did three weeks ago — Miles Sanders and Alshon Jeffery, for two, returned — the Eagles remained serial practitioners of disappointment, going 0 for 9 on third down and looking altogether discombobulated for vast stretches of the game.
Their struggles, coupled with those of well, everyone else, have contributed to the decline of a once-grand division. In a league that prides itself on parity, the N.F.C. East has become parody. By nightfall Sunday, its four teams had combined to win 10 games, the fewest by any division through Week 10 of a full season since the A.F.L.-N.F.L. merger in 1970, according to the Elias Sports Bureau. And the ignominy doesn't stop there.
Already careering toward the fewest combined victories over a full season since the merger — the record is 22, Elias said, shared by the 2008 N.F.C. West and the 2014 N.F.C. South — the N.F.C. East could finish with the worst winning percentage, as well. In its way? The 2008 N.F.C. West (.344).
Much like Bill Belichick, his previous boss in New England, Judge maintains that tomorrow does not exist until midnight, and he has conditioned his players to believe as much, too.
"It's irrelevant," Judge said. "The only thing that matters is that we keep improving."
That they are. They have won two of their last three games, defeating Washington and losing by 2 points to Tampa Bay.
"We're finally feeling that sense of team," said running back Wayne Gallman, who ran for 53 yards and two touchdowns, adding, "We're not trying to show everybody what we are. We just know who we are and we're doing it as a team."
What they are, at this point, is a 3-7 team. A team with difficult games against Seattle, Arizona, and Baltimore remaining, but a team making incremental progress.
Only two teams with losing records have qualified for the playoffs, and both — the 2010 Seattle Seahawks and the 2014 Carolina Panthers — won a game. The N.F.C. East winner will almost certainly join that group of qualifiers, and since no one else seems interested in doing so, as absurd as it seemed eight weeks ago — six weeks, four weeks, two weeks — maybe, just maybe, that team will be the Giants.
You Might Be Interested In