Home

Even Cowboys Get the Blues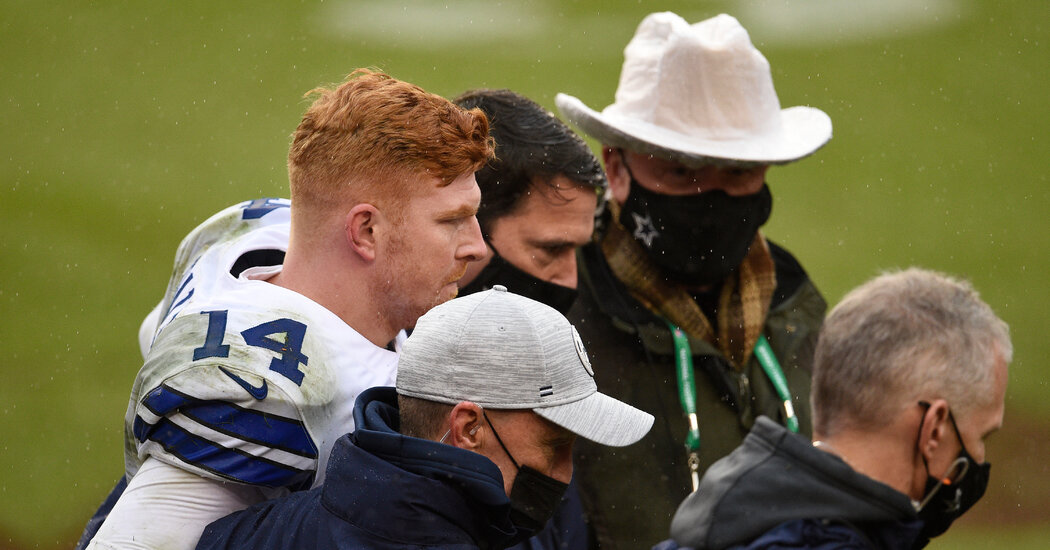 Even Cowboys Get the Blues
When a team is winning, it is all smiles and agreement in the clubhouse. But when a team loses a lot, the camaraderie gets fractured.
The Dallas Cowboys have lost five games, and fingers are pointing in all directions.
On Sunday, the Cowboys lost to the Washington Football Team, hardly a worldbeater, by the dispiriting score of 25-3. Dallas (2-5) also lost its quarterback, Andy Dalton, to a concussion after a hit in the third quarter. Dalton had been a replacement for Dak Prescott, who was knocked out for the season earlier this month with a fractured and dislocated ankle.
Coach Mike McCarthy took issue with his team's nonreaction after Dalton received what many saw as a dirty shoulder-to-helmet hit from Washington linebacker Jon Bostic. While several players went to see if Dalton was OK, none confronted Bostic, who was subsequently ejected for the illegal hit. "We speak all the time about playing for one another, protecting one another," McCarthy said, according to The Athletic. "It definitely was not the response you would expect."
Cowboys players were also looking for answers after the game.
"We need more belief and more high spirits around this team," DeMarcus Lawrence, a defensive end, told USA Today. "And really, more fight. That's really, I feel like, one of our weaknesses. We need to build a stronger backbone, fight and also make sure that we brought everything possible to come out with a victory."
Lawrence's remarks followed reports of dissension among the team in the week leading up to Sunday's game. Players quoted anonymously by the NFL Network were sharply critical of the coaching staff, calling into question their preparation and capability to adjust.
Those reported remarks gained enough traction that the players and staff took pains to disavow them in the days leading up to the game against Washington. "I don't deal with all of that anonymous stuff," linebacker Jaylon Smith told reporters. "If you got something to say, just put your name on it. All of that anonymous stuff is really trash to me."
Standing up for teammates and having "backbone" is all well and good, but a bigger reason the Cowboys are struggling is no doubt having lost the star quarterback Prescott, who threw for 450 or more yards in each of the three games before the one in which he was injured. The team's offense took another steep downturn with the loss of Dalton this week, turning to Ben DiNucci, a rookie out of James Madison, to complete the game.
Also contributing to the subpar season so far: a team defense that rates dead last in the league and a star running back, Ezekiel Elliott, who is averaging career lows at 4.1 yards per rush and 6.4 yards per catch.
The low points of Sunday's game were numerous. The Cowboys gave up a safety, an always embarrassing play somehow made even more embarrassing because it was the first score of the game for either team. In the end, Dallas managed just 3 points for the day, only the second time since 2004 it has been held to such a low total.
The Cowboys trailed in yards, 397-142, and first downs, 21-12. They were 3 for 12 on third-down conversions and 0 for 1 on fourth down, when they mysteriously called a passing play on fourth-and-1. Dalton was pressured and threw it incomplete by a considerable distance.
Dalton suffered much of the game from mediocre pass protection, a problem for Prescott before he was injured, too.
As for DiNucci, it's hard to read much into his 2 of 3 for 39 passing yards cameo. Dalton is for now listed as questionable for Week 8 with a concussion. The next quarterback on the depth chart beyond DiNucci is Garrett Gilbert, who has played for the Patriots, Rams, Panthers and Browns, throwing a total of six passes.
A potential flash point in the misbegotten season is McCarthy, the former Green Bay head coach who many Packers fans still blame for Aaron Rodgers having won just one Super Bowl. Dallas hired him to coach over candidates that included Eric Bieniemy, the offensive coordinator of the Chiefs, who is often cited as a top candidate for a head coaching job. The decision to go with McCarthy was criticized at the time it was made, and the second-guessing is likely to increase.
But Dallas fans find themselves in a strange situation when it comes to the head coach as scapegoat. For years, anything that went wrong was blamed on Jason Garrett, now the Giants offensive coordinator, and fans celebrated his dismissal. Now they might need to acknowledge that the team's problems are deeper.
Even at 2-5 the Cowboys still can win the woeful N.F.C. East. Indeed, they are only half a game behind the Eagles in a division which after seven weeks has produced just two wins against teams not in the N.F.C. East.
But to do so, the Cowboys will have to find a reasonable answer at quarterback, improve in a number of other areas, and at least mute the internal dissension. It remains to be seen if they can pull off that combination.
You Might Be Interested In